Commercial spaces often undergo changes. Knowing so, it is very possible that your commercial building need the services of a professional plumber in the area of Montreal. Whether it is because of the obsolescence of the pipes, a renovation project that needs a plumbing reorganization or any other usual inspection and repair.

Renovation
After the rental or acquisition of a new commercial building, you wish to renovate the bathrooms or reorganize a new kitchen. Let us assist you in your project.
With long-standing partners, we replace or install professional commercial devices of all sizes. Whether it's a stove or a dishwasher, let us do it for you.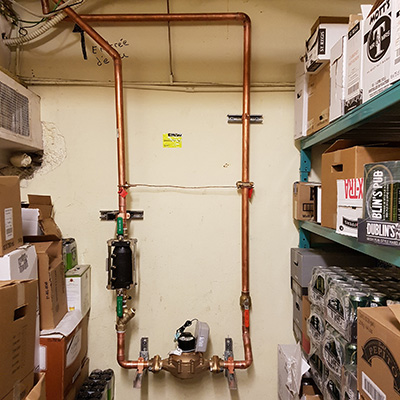 Water meter
The city requires that you install a commercial water meter?
Following the adoption of the city of Montreal's new 2011-2020 strategy on water consumption, all industrial, commercial and institutional buildings must be equipped with water meters.
The installation of a water meter aims to :
Take water consumption readings
Carry out an assessment of water consumption
Ensure a level of accuracy of the readings
Comply with the regulations on water pricing in force
Guarantee billing equity between taxpayers
To avoid all the hassle, call J.Jodoin for the installation of your water meter.
Backup prevention
You are a condominium manager and you wish to prevent any emergency sewer backup. We suggest you pressure clean your main lines. Whether it is the main stack or the main stack bottom, you must ensure their condition and inspect or clean them annually. Our team is available to give you peace of mind.
Visual Inspection
Some insurance companies require you to do a visual inspection for a maximum coverage. With this inspection we will be able to detect if there are certain weaknesses and suggest corrective measures to be made. We will fill in the form adapted to your needs  to submit to your insuranc
Quote request
We are at your entire disposal to help you plan your work!
Contact us