Plumbers from J. Jodoin possess the tools and expertise to inspect your piping system, unclog your sewer drain, as well as clean and repair your entire sewer system.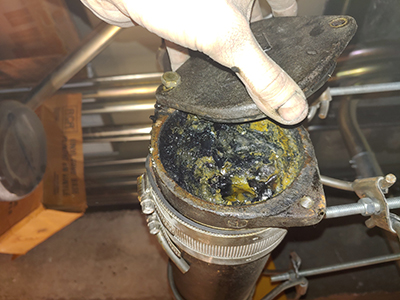 Sewer system repairs, cleaning and maintenance
Your sewer system is a primary part of your home. It provides a secure way for dirty water to the septic tank or your collective sewerage system. When it does not function properly or when it is damaged, there is a high probability that problems will occur. Our plumbers can repair, clean and make regular maintenance on your sewerage systems. We have the necessary tools needed to proceed with the repairs efficiently.
We can:
Unclog and clean your sewer system with a plumbing rooter and a pressure machine
Inspect and identify breaks in the pipes with the help of a camera
Dig up and excavate the piping
Backflow Preventer : Preventing a disaster
The backflow preventer, also called the Anti-expulsion system, is usually mandatory for any home with a basement or apartment located on basement level. An annual examination of the backflow valves is also greatly recommended to make sure there is nothing wrong with your piping and keep them in top condition.
Plomberie J. Jodoin holds the certification to verify the anti-expulsion systems, we can verify your installations to make sure that you are conform to the new standard which came into effect on January 1st, 2007.
Sewer Backflow : Signs of the problem
You need to be aware of what is going on in your home to prevent any damage that could affect it. You can easily identify the signs of a sewer backflow without being an expert. When you think you have identified what could be a backflow problem, you will need to take action swiftly to make sure the problem does not spread to other part of the building.
Audible "gurgle" sounds coming from the kitchen sink, toilet or bathroom sink
A stench or foul odor similar to rotten eggs can be noted near the drain.
A puddle of water surrounding the drain or the pipes
When this kind of event happen, it is very important to contact your plumber. We will be able to identify the cause of the backflow and take care of the problem quickly to prevent any additional problem.
PipePatch trenchless spot repair
Eliminate costly and time-consuming excavation work by switching to the trenchless rehabilitation method with the PipePatch system. Following an inspection of your drains by camera and depending on the condition, a feasibility report will be given to you. For more details contact our customer service.
You have a drain problem do not hesitate,Contact us now!

Quote request
We are at your entire disposal to help you plan your work!
Contact us