Plumbing Business in Montreal since 1966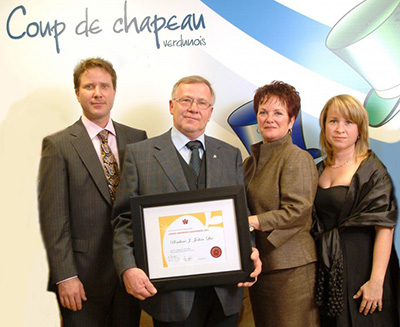 Since its foundation in 1966, Plomberie J. Jodoin Ltée is concerned about the quality of the services they offer to their customers. With Julien Jodoin, and followed by Roger Barré in 1992, the company knew how to make its mark in the Southwest of Montreal with clients consisted of owners of buildings, of commercial establishments and industries.
For several years now, Roger Barré's children, Nathalie and Martin have been working within the company.
Our family business describes itself as dynamic, close to the people of the community and we believe that everyone leaves an imprint on their environment. We started out small and, despite our growth, we remain firmly rooted in traditional values such as honesty, integrity and respect. We pride ourselves on knowing that our services give our clients peace of mind whether it's a service call or a large project.
So if you need the services of a plumber in Montreal, contact us !
The values of Plomberie J.Jodoin Ltée
An organization was aiming for the satisfaction of the customers, the quality of the offered service and the respect for their partners are some of the values carried by Plomberie J.Jodoin Ltée. Meet our team !
Customer satisfaction
In the current competitive world, the satisfaction of our customers is one of keys of our success, satisfied customer = loyal customer.
All of our expert and certified plumbers are committed to providing you with quality service and will do everything in their power to provide you with the best solution to your plumbing problem.
If you have a plumbing emergency, we are here for you, 24 hours a day, 7 days a week. Contact us now!
Quality requirement
Our permanent will of quality and our involvement to suggest the best solutions and product, impose us strictness.
That's why our team of plumbers at Plomberie J.Jodoin are experienced, certified professionals who listen to your needs. The quality of our services is one of our priorities!
The respect
Under all its forms is an essential value for the maintenance of healthy relationships.
License Number RBQ 1127-0089-26
Quote request
We are at your entire disposal to help you plan your work!
Contact us